RANSBURG Aerobell 168 - pistolet automatyczny elektrostatyczny
AEROBELL™ 168
FLEXIBLE, ROBUST ROTARY ATOMIZER
AEROBELL 168
Wysoka jakość atomizacji w kompaktowej, trwałej jednosce
Rozpylacz Aerobell 168 opiera się na mocnych stronach naszych wysoce cenionych atomizerów Aerobell. Jest to najnowsza technika stworzona z myślą o aplikacjach w przemyśle ogólnym oraz motoryzacyjnym Tier 1, otwierająca nowe możliwości
w zakresie efektywności, wydajności oraz zdolności adaptacyjnych potwierdzając naszą reputację producentów solidnej inżynierii.
• Nowa konstrukcja dzwona wpływa na poprawę wydajności rozpylania
• Podwójny kanał zasilania materiałowego zapewnia mniejsze straty farby podczas malowania i płukania
• Kubki dzwonów wykonane w standardzie z wytrzymałego tytanu
• Kształt kołnierza powietrznego umożliwia łatwy demontaż
• Dostęp z przodu umożliwia łatwy demontaż turbiny, pozwalając na szybką konserwację oraz serwis
• Ulepszony kształt powietrza w kombinacji mono-iex oraz duo-iex.
Specyfikacja
| | |
| --- | --- |
| Waga | 2.7kg (4.4kg z adapterem robota) |
| Przepływ materiału | 500ml/min |
| Prędkość turbiny | 60,000 rpm |
| Wymiary dzwonu | 30mm & 65mm |
| Ładowanie | Bezpośrednie lub pośrednie |
| Zasilanie | 9060 HV1 lub Master 2 |
FEATURES AND BENEFITS
• Speeds up to 60,000 RPM…create great latitude for your productivity output.
• Shape Air…versatile patterns dependent on configuration options, Dual Flex 65mm from 3" to 11" (77mm to 280mm), Mono Flex 65mm from 8" to 24" (204mm to 609mm), Dual Shape Air 30mm from 8" to 15" (204mm to 381mm).
• Adapters Available for all Types of Mounting Configurations… maximizes versatility and efficiency.
• Various Fluid Tip Diameters…allows control of material from the center feed tube into bell cup.
• External/Internal Cup Wash…allows automatic external/internal bell cup cleaning without entering the booth.
• Coiled Fluid Tube…aids in electrostatic application of highly conductive materials.
• Easy to Access, High Wear Cartridge Valves…features one-piece needle and stem design with replaceable fluid seat.
• Reliable Fiber Optic Transmission of Rotational Speed Data…provides optimum operational control.
DESCRIPTION
The AeroBell platform continues its evolution with the Ransburg 168 Rotary Atomizer;
with a robust, proven air-bearing turbine design; you can count on the AeroBell 168
to keep your system running at peak performance. Its compact design and versatile mounting adaptations allow for flexible finishing options. The bell is designed with
fewer parts, which decreases maintenance and provides increased up time.
The Aerobell 168 offers a wide variety of bell cups and shape air rings that provide
optimum performance and flexibility when coating anything from large panels to
intricate shapes. MonoFlex shape air technology provides a large to medium size spray pattern that encapsulates the atomized particles and maximizes coating performance over a wide range of part styles. The optional DualFlex shape air technology provides the same medium size to small spray patterns and can be used to provide coating
penetration into complex geometries and deep recesses. Regardless of the coating
material, Ransburg bell cup technology provides superior material atomization to
maximize the appearance on the substrate. We have the experience and technology that will best fit your application.
The AeroBell 168 combines state-of-the-art technology
with superior design for greater performance and process efficiency.

SPECIFICATIONS:
Mechanical:
Length Applicator: 8 inches (204 mm)
Length Applicator and
Mounting Block: 15 inches (381 mm)
Diameter: 4.5 inches (115 mm)
Weight of Atomizer Only: 6.5 pounds (3.0 Kilograms)
Weight of Atomizer and
Remote Block: 9.5 pounds (4.4 Kilograms)
Turbine Type: Air Bearing Impulse Drive
Turbine Air Supply: Variable
Maximum Turbine Speed: 60,000RPM Continuous
Bearing Air Supply (Nominal): 90 psi (+/-10 psi) (620 kPa)
Inner Shaping Air Supply (Nominal): Variable
Outer Shape Air Supply (Nominal): Variable
Brake Air Supply (Nominal): 60 to 90 psi (414 to 620 kPa) Maximum Fluid Pressure
Supply for Paint: 200 psi (1379 kPa)
Maximum Fluid Pressure Supply for Solvent: 150 psi (1034 kPa)
Fluid Flow Rate: 25 cc/min to 300 cc/min for 30 mm Bell Cup 25 cc/min to 500 cc/min for 65 mm Bell Cup
Speed Read Out: Magnetic pick up, unidirectional fiber optic transmission
Electrical:
Power Supply Type: 9060 Automatic Power Supply or Voltage Master2
Charging Method: Direct
Output Voltage: 30 to 100 kv Variable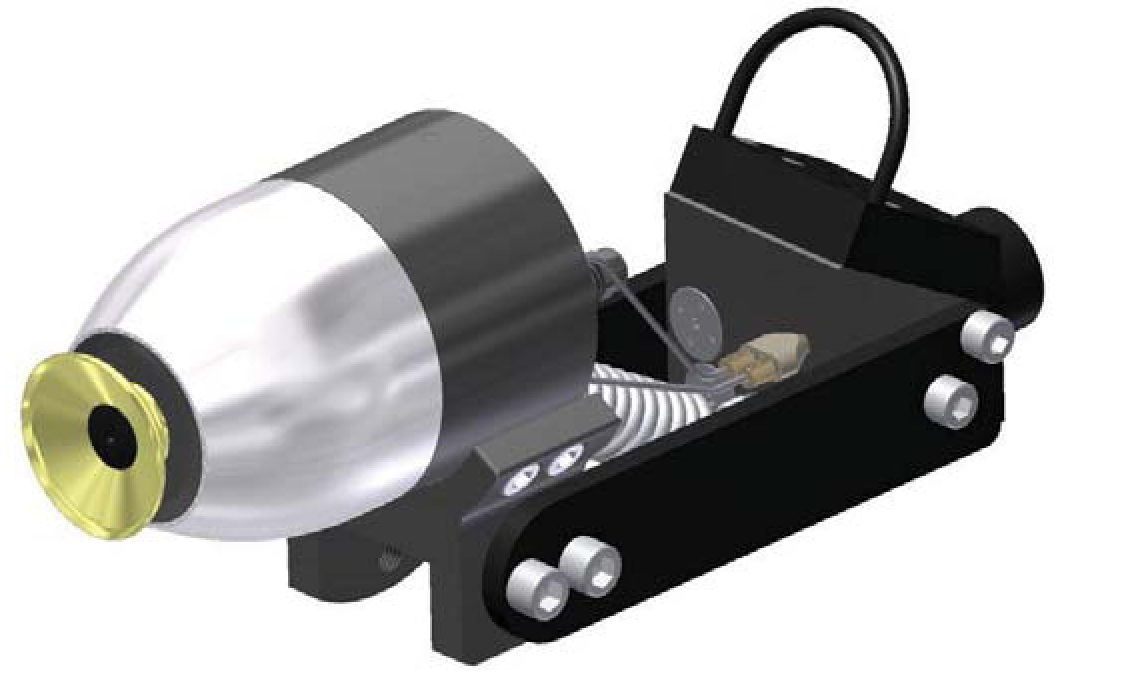 Adapters for all styles of mounting configurations…new design of mounting apparatus allows for various mounting styles, whether mounting your applicator to a moving robot arm, reciprocating machine or stationary mount...one design will suit your mounting needs.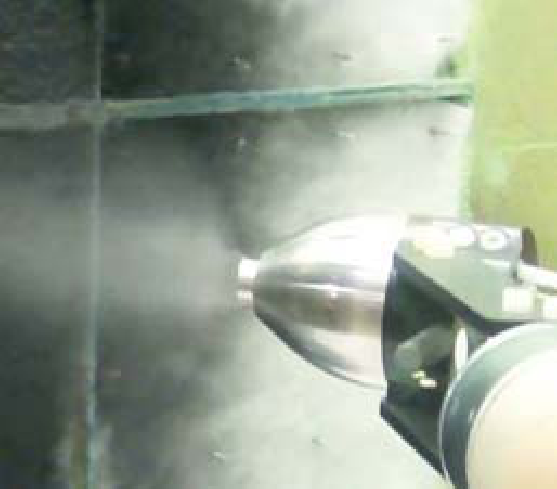 Industrial Bell/ Solvent Material  Application